Natural Hair On FLEEK!
5 Tips To Make Your Tresses GROW!
I know.. I can't believe I said FLEEK either.. But I'm so excited!! HAPPY 6th ANNIVERSARY NATURAL HAIR!
6 years ago today I made a major decision. In the middle of a snowstorm, I drove to the nearest hair salon, one I had never been to before, and asked a stylist to cut off the remainder of my relaxed hair.
After more than three decades of processing, coloring, daily curling irons and hot rollers, my hair had had it! Then, after being hospitalize in late 2008 with asthmatic bronchitis, I went right to the hair dresser's to get my hair relaxed, just as I had been doing for more than 30 years. Only this time, the medication in my body counteracted with the chemicals in the relaxer and my hair broke off and fell out.
At that moment I made the decision that I was never going to put another chemical in my hair (except for color, y'all.. except for color). I was moving toward that decision anyway; this sort of expedited it.
Related: Want Your Natural Hair To Grow Like This? Here's The Secret!
On March 9th, 2009, I did The Big Chop, cutting off what remained of my relaxed hair.
It was short and honestly, I couldn't wait for it to grow out.
In the beginning, I watched it incessantly, the way my teen watches the oven when there's pizza in it! I tried every growth aid, formula, concoction there was.
And in the end you there were a few things that really worked best for me.
So here they are, the 5 tips to help make your natural hair GROW!
1. Be GENTLE!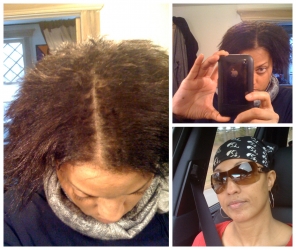 Image 1 of 5
Okay so here was the start of my Natural hair Care journey. My hair, as you can see, was very fragile. It was dry, brittle and at this point, still falling out. The very first thing I did was basically do nothing to it; I would rinse it with conditioner and then pull it back with a headband (be careful with those too) or put a cap on. But I am a BIG believer in satin pillow cases. Cotton is very drying and it you sleep like me, your head is all over the pillow. That friction of curls against cotton also can cause breakage along with the drying.