Top Talker:
4 Reasons NOT To Quit A Job This Way! (VIDEO)
Nearly a decade ago, I was doing my job as one of the anchors on the CBS early show. I was preparing for the show, which would be broadcast live to the country in a few hours when I noticed a reminder on my calendar. It was a meeting with the president of CBS news and it was not one I set up.
The date was Dec 2nd.
Needless to say I did the show with a knot in my stomach; I could barely concentrate. Why?
Because I knew I was going to be fired.
Knowing that did not stop me from being a professional; I did the job, just as I had done the previous 4 years even though I felt like throwing up the entire 120 minutes.
I went across town and sure enough, my bosses told me I was fired. Just like that. Anyone who's been in a crisis knows how crazy it is when you're in the middle of it, how time slows WAAAY down. My experience was no different. I did manage to hold back the tears, thank them for the opportunity they afforded me the past 4 years and walk out. When I got back to my office, I cried. I got home and cried some more.
But it wasn't over; see I still had 3 more weeks on the job. I went in every single day, held my head up high and on December 22nd (two weeks before my scheduled preventive double-mastectomy) I said good-bye to viewers.
My exit from that high profile gig and the work I have done to rebuild my career and brand since then, are among the things I am most proud of.
And that's just one of the reasons the story of the Alaska TV reporter who dropped an "F" bomb on air while quitting, bugs me so much.
Related: My Target Moment: How I Left TV News Behind
Charlo Green, after reporting on the legalization of marijuana, revealed herself to be the owner of a cannabis club (ethics anyone?) before quitting on air.
I have serious reservations about even showing this video because I don't want to give Greene any more publicity. But take a look anyway.
My own experience is just one of the reasons this hacks me off so much. But here are 3 more reasons (well they're actually people) not to leave a job like this.
2. Casey Parham - Student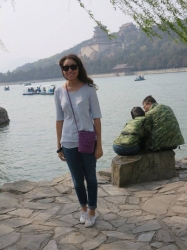 Image 2 of 3
This kid right here! Smart, conscientious and kind, she is going to go far in life. Her father and I work very hard to help her and her brother see that you are not a sucker for following the rules. It's not necessarily sexy but there is true value in a job well done, even if no one sees it.