Moms Must Read:
Books to Read in Times of Tragedy
In light of yet another heartbreakingly violent episode at a school and more recently, the tragic ferry accident in Seoul, I thought this was a particularly good time to face how we discuss tragedy, violence, death, and dying with our kids. This is a conversation no parent dreams of having but more often we are faced with. What are we to do when wanting to comfort a scared or grieving child? We are struggling to process it in our own minds; the last thing we want to do is explain tragedy to our little ones. When I was faced with my own tragedy, I turned to books.
To be sure, books don't have all of the answers but they are a start. Books are an excellent resource when you don't know what to say, where to go, or how to begin. Books can comfort you and let you know that you're not alone, or their methods can be so ridiculous that they are unhelpful, but at least show you what not to do. The following are three books that have helped me during a difficult time in my life..
2. THE GRIEVING CHILD: A PARENT'S GUIDE BY HELEN FITZGERALD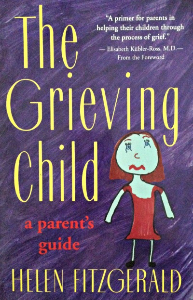 Image 2 of 3
I found this book useful because Fitzgerald helped me understand my own death history and confront my feelings about death. "Before you begin talking to your child about the death of a loved one or about death in general, be sure you know where you stand." The author reasons that "the more you understand yourself, the easier it will be to avoid letting those feelings influence your child." This, too, was helpful. You don't want to muck up your child's understanding of death with your own conflicted feelings. Throughout the book, Fitzgerald offers honest and useful ways handle such situations as whether or not to take the child to the funeral, or deciding when it's time to seek professional help.